This is a past event.
Campus Comm meets the third Thursday of each month to discuss obstacles, strategies, and best practices for sharing University information and...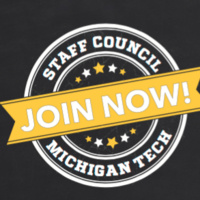 This is a past event.
Monthly meeting of Staff Council. We: assist the University in recognizing outstanding performance and dedicated service by coordinating the Staff...
This is a past event.
Are you working on formatting corrections for your dissertation, thesis, or report? Do you need help? Are you unsure where to submit your...
This is a past event.
Café français is a French conversation group for all levels of French speakers that meets every Thursday from 5 to 6 p.m. in the HDMZ, Walker...
This is a past event.
Enjoy an informal evening out and network with fellow Michigan Tech alumni and friends. We're having an optional ugly sweater party to celebrate...