A vibrant celebration of arts and and ideas for our 25th anniversary. Salon! features the works of more than 20 artists presented in a mix of...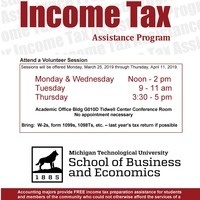 Sessions will be offered Monday, March 25, 2019 through Thursday, April 11, 2019. Academic Office Building G010D conference room. No appointment...
Tuesday, from Noon - 1pm https://mtu.libcal.com/event/5240774
Connect with Michigan Tech alumni on LinkedIn to explore careers, build relationships, learn about companies or locations, and get help landing a...
Mechanical Engineering-Engineering Mechanics Advisor: Jeffrey Naber Characterization of the Post Injection Behavior of Gasoline Direct Injection...