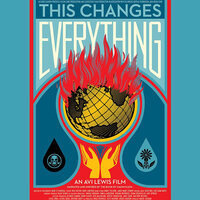 2018 Green Films: This Changes Everything: Capitalism vs. Climate
The 2018 Green Film Series continues with "This Changes Everything: Capitalism vs. Climate." The 2015 film will be shown at 7 p.m. Thursday, Jan. 18 in Forestry G002 Hesterberg Hall.
A facilitated discussion will take place, following the film. Refreshments will be provided by the Sustainable Futures Institute and Lake Superior Stewardship Initiative. While there is no admission a three dollar donation is suggested.
Based on the book of the same name by Naomi Klein, the film presents seven powerful portraits of communities on the front lines, from Montana's Powder River Basin to the Alberta Tar Sands, from the coast of South India to Beijing and beyond. Interwoven with these stories of struggle is the author's narration, connecting the carbon in the air with the economic system that put it there.
Throughout the film, Klein builds to her most controversial and exciting idea: that we can seize the existential crisis of climate change to transform our failed economic system into something radically better. Read more.
Discussion Facilitator Angie Carter (SS) whose areas of expertise include environmental sociology, community-based and participatory research and social movements and social change. Her research interests span environmental inequality and justice to energy systems sustainability and environmental and natural resource policy.
Cosponsored by Lake Superior Stewardship Initiative, Michigan Tech Great Lakes Research Center, the Keweenaw Unitarian Universalist Fellowship, Keweenaw Land Trust, Sustainable Futures Institute, Mich Tech Department of Social Sciences and Keweenaw Climate Community.
Thursday, January 18 at 7:00 pm
U. J. Noblet Forestry Building, G002 Hesterberg Hall
1400 Townsend Drive, Houghton, MI 49931
Event Type

Target Audience