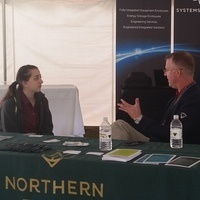 Business Careers Day
11am - 2pm under the CareerFEST tent
Come have lunch, network with companies to learn about the variety of career options available in Business, and Economics. Areas of Accounting, Economics, Finance, Management, Marketing, Engineering Management, and Management Information Systems.
4pm - 6 pm Alumni Lounge - Memorial Union Building
Business After Hours- Come socialize and network with business professionals. Refreshments will be served.
Business Career Day sponsors include:
Auto-Owners Insurance
Northern Trust
Fast Enterprises, LLC
MacLean-Fogg
Meridian Health Plan
The Dow Chemical Company
CCI Systems
Dematic Corporation
Monday, September 25, 2017 at 11:00 am to 6:00 pm
CareerFEST Tent (in the heart of campus) and MUB (Alumni Lounge)
Event Type

Target Audience

Website
Department

Host ?

SBE

Subscribe