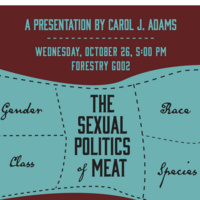 Carol Adams' 'The Sexual Politics of Meat' Lecture and Slideshow
Ecofeminist writer and activist Carol J. Adams will present an analysis of the way popular culture representations of meat draw upon dominant Western philosophical viewpoints regarding race, gender, and species and contribute to the interconnected oppressions of women and animals. Adams has written extensively on the links between the oppression of women and that of animals, domestic violence, sexual assault, and the ethics of diets. Her book The Sexual Politics of Meat: A Feminist-Vegetarian Critical Theory has drawn international recognition for its examination of meat culture. A book signing will follow the presentation (cash or check only).
Wednesday, October 26, 2016 at 5:00 pm to 6:30 pm
U. J. Noblet Forestry Building, G002
1400 Townsend Drive, Houghton, MI 49931
Host ?

Michigan Tech and NMU

Event Type

Audience

Subscribing Departments ?
Cost

free

Hashtag

Website

Subscribe