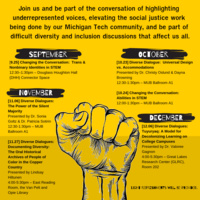 Diverse Dialogues
Documenting Diversity: The Oral Historical Archives of People of Color in the Copper Country
Presented by Lindsay Hiltunen and the Center for Diversity and Inclusion
Black Voices in the Copper Country: Exploring Community and Michigan Tech Campus Life, 1850-1990, an exhibit by the Michigan Technological University Archives and Copper Country Historical Collections, examines the African American experience in the Keweenaw. This online exhibit is intended to highlight materials that explore the stories of underrepresented individuals and narratives in Michigan history and serves to encourage researchers to consider more inclusivity when telling regional and state history. The Black Voices project is a multifaceted research initiative that has included substantial archival research, public programming and exhibits.
Come be part of a critical campus discussion about an exhibit that can serve as a stepping stone to further research and encourage critical investigation to uncover stories and individuals not widely known, but deeply important to the rich heritage of the Copper Country and its unique history presented by Michigan Technological University Archivist, Lindsay Hiltunen, and hosted by the Center for Diversity and Inclusion.
Tuesday, November 27, 2018 at 4:00 pm to 5:30 pm
J. Robert Van Pelt and John and Ruanne Opie Library, East Reading Room
1400 Townsend Drive, Houghton, MI 49931
Event Type

Target Audience
Department

Contact Name

Amy Howard

Contact Email

Subscribe