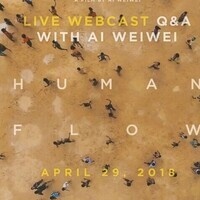 Film Human Flow
The Social Science Book Club invites you to join us for a screening of Ai Weiwei's film Human Flow followed by a livestream Q & A with the artist.
"Human Flow" is a sprawling and heartbreaking exploration of the global refugee crisis. Captured over the course ofa year in 23 countries, the film follows a chain of urgent stories thatstretches through Afghanistan, Greece, Iraq, Kenya, Mexico, Turkey and beyond.
Sunday, April 29 at 2:00 pm to 6:00 pm
Hesterberg Hall, G002 School of Forest Resources and Environmental Science
Event Type

Target Audience

Subscribing Departments ?
Host ?

Social Sciences Book Club

Contact Name

LouAnn Wurst

Contact Email

Contact Phone Number

9064873188

Subscribe