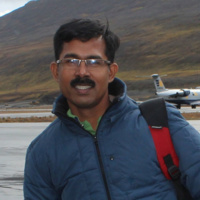 Geoseminar: Dr Sajin Kumar, Post Doctoral Fellow
Meteorite Impact Craters
Dr. Sajin Kumar K.S. obtained his MSc Geology degree from the University of Kerala in 1998. After the completion of PG, he worked in Centre for Earth Science Studies, University of Kerala and Department of Mining & Geology in various capacities gaining experience in geological field work, post graduate teaching and related areas. In 2002, he joined the IIT Bombay, pursuing his PhD. He completed PhD in 2005 (Geoinformatics in landslide risk assessment and management in parts of Western Ghats, Central Kerala, India). He joined Geological Survey of India, worked in engineering geology projects and did landslide studies in Himalayan and Western Ghats regions. In October 2012, he joined the Department of Geology, University of Kerala, Kariavattom Campus as Assistant Professor to fulfill his ambition of pursuing his career as a teacher. Recently he was bestowed with the UGC Raman Post-Doctoral Fellowship, which has enabled him to carry out Post-Doctoral Research at Michigan Tech.
Tuesday, September 13, 2016 at 4:00 pm to 5:00 pm
Dow Environmental Sciences and Engineering Building, 610
1400 Townsend Drive, Houghton, MI 49931
Event Type

Target Audience

Subscribing Departments ?
Host ?

GMES Dept, College of Engineering

Subscribe