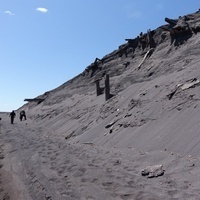 Geotour: Copper mining waste of Lake Superior Today
This is the fourth year of one day long geotours on the five Geoelements of Keweenaw Geoheritage. These tours use ground and boat transportation and visit some of the most important places identified by the website. We use the university research boat, the RV Agassiz.
This trip is to see the dynamic lake processes that have scattered mining waste in Lake Superior and inland lakes, Highlights are the Gay and Torch Lake Sands, visited both onland and from the lakeside.
Details of the trip can be found here: http://www.geo.mtu.edu/KeweenawGeoheritage/KeweenawGeoheritage/LakeDetails15.html
Thursday, July 27 at 7:30 am to 5:30 pm
Memorial Union Building (MUB), Parking area west side
1503 Townsend Drive, Houghton, MI 49931
Event Type

Audience

Subscribing Departments ?
Cost

See link below

Website

Subscribe