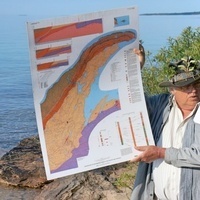 Geotour: Keweenaw Glacial Geology
This is the fourth year of one day long geotours on the five Geoelements of Keweenaw Geoheritage. These tours use ground and boat transportation and visit some of the most important places identified by the website. We use the university research boat, the RV Agassiz.
This trip is to see the glacial deposits of the Keweenaw and to understand the glacial history of the area. The Keweenaw was recently covered with more than two miles of ice, and the evidence for this is abundant, and all around us. We will visit local glacial features such as the esker near Mandan, moraine near Copper City and Calumet, glacial outwash in Hancock and Allouez, glacial grooves, erratic boulders, kettle lakes and kame terraces, using the boat traverses to see many of these features from the water. The glacial history and how the lake has evolved since glacial retreat has had a strong influence on our landscapes.
For more details see:
http://www.geo.mtu.edu/KeweenawGeoheritage/KeweenawGeoheritage/GlaciersDetails17.html
Saturday, July 22, 2017 at 7:30 am to 5:30 pm
Boulder Garden, MTU Campus Between Fisher and Dillman Buildings
Event Type

Target Audience

Subscribing Departments ?

Website