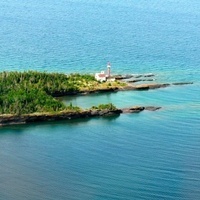 Geotour: Lavas and the Keweenaw Rift
This is the fourth year of one day long geotours on the five Geoelements of Keweenaw Geoheritage. These tours use ground and boat transportation and visit some of the most important places identified by the website. We use the university research boat, the RV Agassiz.
This trip is to see and understand the Keweenaw's black rocks and its deep earth volcanism past. It is the site of Earth largest lava outpourings. Magma oceans existed here. We will see the huge lava flows and how they shape and influence the peninsula.
Highlights of the trip include: The Great lava reefs and shipwrecks of the Eagle Harbor to Copper Harbor shore, The Greenstone Flow (Earth's Largest) and its anatomy, Copper and lavas--how do they relate? Manitou Island and the Lake Shore Traps. Details of the trip are here:
http://www.geo.mtu.edu/KeweenawGeoheritage/KeweenawGeoheritage/LavaDetails15.html
Monday, July 24, 2017 at 7:30 am to 5:30 pm
Memorial Union Building (MUB), Parking Lot, west of Building
1503 Townsend Drive, Houghton, MI 49931