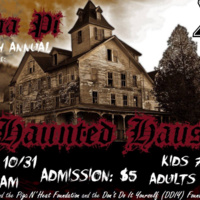 Haunted Haus
Salutations!
It is apparent in local markets, pumpkin themed food and spooky decorations are making their way back to the shelves. Communities are preparing for the best holiday of the year and we at Sigma Pi are doing the same. As we approach our 29th Halloween event we are beginning to plan and set up for our charity Haunted Haus!
This year's Haunted Haus will have you talking about it to all your friends. Be sure to come check out the hard work of the brothers of Sigma Pi and sisters of Theta Chi Epsilon. It's a great time and helping charity is no downside
Sigma Pi: Zeta Epsilon chapter of Michigan Tech is opening donations to bring back another amazing charity event for the Houghton area. Donations are much appreciated and will be put toward the Pigs N' Heat Foundation and the Don't Do it Yourself (DDIY) Foundation. If you would like to donate please go to this link.
www.gofundme.com/3n4jz4hg
Thank You, and have a (early) Happy Halloween!
Sunday, November 1, 2015 at 7:00 pm to 1:00 am
Sigma Pi House
Event Type

Target Audience

Website
Group

Subscribe