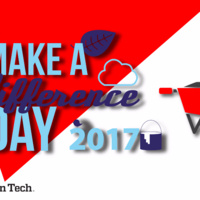 Make a Difference Day 2017
Make a Difference Day is the most encompassing national day of helping others – a celebration of neighbors helping neighbors. Everyone can participate. Created by USA WEEKEND Magazine, Make a Difference Day is an annual event that takes place on the fourth Saturday of every October.Make a Difference Day 2017 will take place on Saturday, October 28. All those interested in volunteering must fill out this Involvement Link form. Check-In typically is held between 8-9 a.m.. Volunteers meet in the MUB Commons. Information packets are distributed and from there, groups travel to service locations. Our goal is to place as many volunteers with agencies as we can. Some projects require that groups drive to the location.
Volunteer projects will vary based on what agencies we are partnering with. Raking, painting, weeding, planting, digging, cleaning and moving are all likely projects we'll be helping with.
Saturday, October 28, 2017 at 8:00 am to 1:00 pm
MUB Commons
Event Type

Target Audience

Website
Group

Department

Subscribe