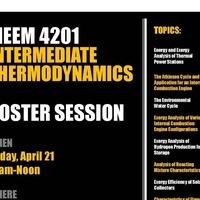 MEEM 4201 Intermediate Thermodynamics Poster Session
Students from MEEM 4201 "Intermediate Thermodynamics" will be presenting the results of their semester-long projects related to the course.
Please stop by to discuss with our students their findings.
Friday, April 21 at 10:00 am to 12:00 pm
Memorial Union Building (MUB), Commons Area
1503 Townsend Drive, Houghton, MI 49931
Host ?

Dr. Scott Miers

Event Type

Audience

Subscribing Departments ?
Website

Subscribe