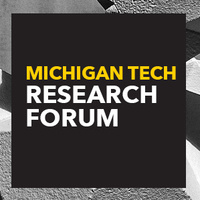 Michigan Tech Research Forum
The Michigan Tech Research Forum is a new University presentation series showcasing the work of Michigan Tech faculty, postdocs, and researchers to strengthen our community. The research and ideas that are presented are from our on researchers, both published and unpublished. Time before and after each event is dedicated to mingling, with ample time to seed collaborative discussions.
Mingle: 4:00 PM
Lecture(s): 4:30 PM
Mingle 5:00 PM
Complimentary snacks and drinks are provided.
Featured researchers vary and will be announced here at at the Research Forum website. More details are available online at http://www.mtu.edu/research-forum/.
Special note: On-site, low-cost childcare at the MUB is available for those who need it during this session of TechTalks. Pre-registeration is required by three days before the event. Low pre-registration may result in this service being cancelled. https://goo.gl/forms/ctpBDVDgIiVekIA23.
Michigan Tech Research Forum events are presented by the Office of the Provost in coordination with the Office of the Vice President of Research.
Wednesday, March 21, 2018 at 4:00 pm to 5:30 pm
Memorial Union Building (MUB), Ballroom A
1503 Townsend Drive, Houghton, MI 49931