This is a past event.
MICHIGAN TECH MUSIC PRESENTS
DON K JAZZ FESTIVAL
Featuring Special Guest Rex Richardson
PERFORMED BY MICHIGAN TECH JAZZ
Run Time TBD | Public Welcome | General Admission
The Annual Don K Jazz Festival pays tribute to the originator of the Michigan Tech Jazz Studies Program. Here's this year's lineup:
FRIDAY PROGRAM
Join the Michigan Tech Jazz Program for an evening of Jazz music featuring the New Orleans sounds of the Workshop Brass Band, music from video games by the Video Game Jazz Ensemble, and big band tunes by Count Basie, Toshiko Akiyoshi, Duke Ellington, Dean Martin, Alan Baylock, and Tech Director of Jazz Studies Adam Meckler played by the R&D Big Band.
Please join us at the Orpheum Theater following the show for an after-hours Jazz jam session open to anyone interested in sitting in to play some tunes!
SATURDAY PROGRAM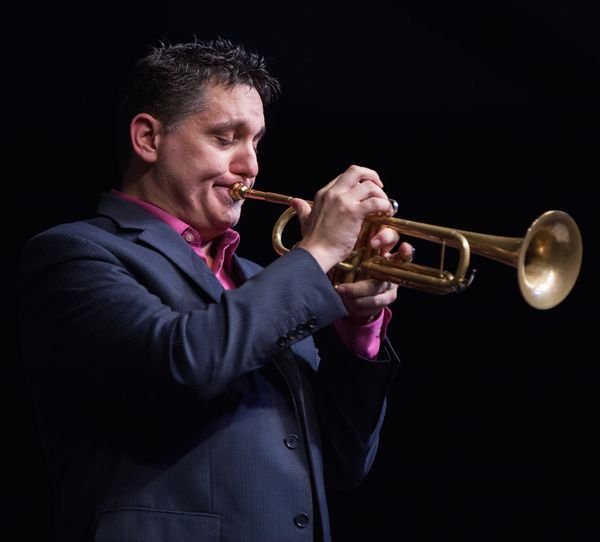 The night will begin with the sounds of New Orleans compliments of the Workshop Brass Band. Michigan Tech's premier Jazz ensemble, the Jazz Lab Band, will be joined by internationally-known trumpet soloist Rex Richardson for an evening of music featuring virtuoso trumpet sounds.
Named "one of the finest virtuosos of our time" by the Brass Herald, Rex has toured all over the world as a trumpet soloist both in the classical and jazz genres. He's toured with jazz legends like Joe Henderson, and has premiered new classical trumpet works with orchestras all over the world. You don't want to miss watching Rex play jazz on the piccolo trumpet!
The Jazz Lab band will perform two of Rex's original works, one of which was arranged by Tech Director of Jazz Studies Adam Meckler. They'll also perform a range of music by Fred Sturm, Dave Holland, Lionel Hampton, Billie Holliday and others.
Content Considerations // none
TICKETS
Public Tickets are on sale now.
Student Rush tickets are available 30 minutes before the performance. Reserve online at any time.
ABOUT
Renowned as champion of new, genre-busting music featuring the trumpet as a solo voice, Yamaha Performing Artist Rex Richardson was named the 2008 Brass Herald International Personality of the Year, has been called "One of the finest virtuosos of our time" (Brass Herald, 2018).
A veteran of the acclaimed chamber ensemble Rhythm & Brass, jazz legend Joe Henderson's Quintet and Sextet, William Russo's Chicago Jazz Ensemble, and the world-renowned Brass Band of Battle Creek, his hundreds of soloist appearances include festivals and ensembles on six continents, such as the Phoenix Symphony and Thailand Philharmonic Orchestras, the U.S. Army Field Band and Tokyo Symphonic Winds, England's Fodens Brass Band, and the U.S. Air Force's Airmen of Note Jazz Ensemble.
His latest CD Freedom of Movement: 21st Century Trumpet Concertos was released to critical and public acclaim, and named a top-ten finalist for 4barsrest.com's 2018 Solo CD of the Year. The Journal of the International Trumpet Guild called it "A triumph of virtuosity and musicianship"(March, 2019).
Richardson has taught at Virginia Commonwealth University since 2002, served as International Tutor in Trumpet at England's Royal Northern College of Music from 2012-2015 and at Austria's JAM Music Lab University since 2018.
Michigan Tech Music, part of the Michigan Tech Visual and Performing Arts Department, offers ten music performance groups: bands, orchestra, jazz, and choral ensembles that expose students, faculty, and the community to the artistic and communicative values of music and the power it has to change lives.
The award-winning Michigan Tech Jazz Lab Band, under the direction of Adam Meckler, is made up of 18 musicians from throughout the country, and features a broad repertoire of music ranging from the Big Band Era to today's contemporary big band Jazz, with a focus on modern and original compositions.
The Research and Development Big Band (R&D) performs repertoire from Jazz's storied history including a mix of traditional and modern repertoire for big band, with an emphasis on traditional repertoire. R and D learns tunes by ear, and spends time on improvisation, and defining chord changes for improvising.