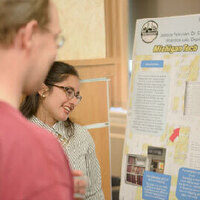 MiCUP Poster Presentations
Join the Center for Diversity and Inclusion from 3 to 5 p.m. June 21st, in MUB Ballroom B, where students from Delta College, Grand Rapids Community College and Wayne County Community College who have been participating in the MiCUP Residential Summer Research Program will present posters.

This event is the celebration of their accomplishments; it is free and open to the public. Refreshments will be served.
Thursday, June 21, 2018 at 3:00 pm to 5:00 pm
Memorial Union Building (MUB), Ballroom B
1503 Townsend Drive, Houghton, MI 49931
Event Type

Target Audience
Department

Host ?

Center for Diversity and Inclusion

Contact Email

Contact Phone

906-487-2920

Subscribe