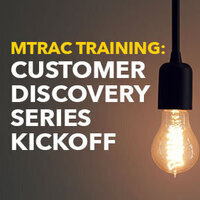 MTRAC Training: Customer Discovery Series Kickoff
In conjunction with the University of Michigan and MEDC, Michigan Tech will be offering entrepreneurial training during the MTRAC proposal selection process designed to improve the project design and presentation.
MTRAC Participants
This four hour session will kick off a three week exposure to the process of customer discovery to determine real customer needs, framing a value proposition and understanding the business ecosystem that will affect commercial development of a technology.
Other Interested Faculty Are Welcome
This session is open to any faculty interested in learning how to successfully characterize a problem they are attempting to solve in a commercialization funding context. Many funding agencies involved with commercialization of technology require a different approach in presenting the core problem to be addressed. This session is designed to help faculty frame their proposal in manner that will more effectively engage commercialization reviewers.
Customer Discovery Sessions
Kick Off Session Friday, April 21 at 1:00 pm to 5:00 pm
Independent work and office hours with teaching team through May 11
Wrap Up Session May 12 at 1:00 to 4:00 pm
All training sessions will be offered remotely to off-campus applicants.
Friday, May 12, 2017 at 1:00 pm to 4:00 pm
Minerals and Materials Engineering Building (M&M), 724
1400 Townsend Drive, Houghton, MI 49931
Event Type

Target Audience

Subscribing Departments ?

Website
Host ?

Office of Innovation and Industry Engagement

Subscribe