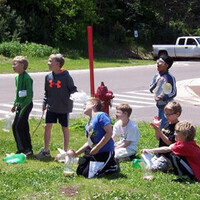 Nature Nuts: Grades 1-2
Summer Science and Engineering Camps 2018
(Entering) Grades 1-2: Nature Nuts (at Nara Nature Center) (cost $120)
Nara is the Nara Nature Center located on US-41 just south of Houghton.
Register
Registration is now open for several summer science camps offered by Michigan Tech's Center for Science and Environmental Outreach. The Center is offering three, three-day summer camps during the last three weeks of June, along with a three-day camp the last week of August.
There will be two concurrent camps in June, one for students entering first or second grade and another for students entering grades three through five. The camps will take place from 9 a.m. to 4 p.m. Tuesday, Wednesday and Thursday of each week. Class size is limited to 20 students. The classes are taught by Center staff and Michigan Tech students, with guest presentations by Tech faculty.
Registration is available online or at the Center for Science and Environmental Outreach blog.
Session descriptions:
Nature Nuts (grades 1 & 2—June 12-14, grades 3-5 June 19-21).
Science Explorers (grades 3-5 —June 12-14, grades 1&2—June 19-21).
Engineering (grades 1&2—June 26-28)
Engineering (grades 3-5—June 26-28)
Science and Engineering at the Nara Nature Center (grades 1-5—Aug. 28-30).
The Center welcomes scholarship donations to help fund students who qualify for free or reduced lunches to attend science camp. Last year, a generous resident contacted the Center and offered to fund a student to attend a session of Science Camp. Her generous offer coincided with a parent requesting a scholarship. The donation made for a very happy camper.
The Center would like to continue providing scholarships. Donations can be made out to "Center for Science & Environmental Outreach" and mailed to: Attention: Joan Chadde, Center for Science & Environmental Outreach, 115 GLRC, 1400 Townsend Dr., Houghton, MI 49931.
For more information, call 7-3341 or email Joan Chadde.
Please register one child per form, for as many camps as you like.
Thursday, June 14, 2018 at 9:00 am to 4:00 pm
Nara Nature Center