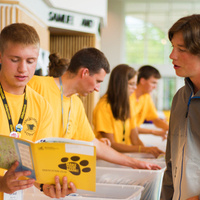 New Student Arrival and Check-In
Your academic career at Michigan Tech begins with Arrival and Check-in. New students should plan to arrive on August 26 between 9:00 a.m. and 6:00 p.m. to the Rozsa Center (building 10 on the campus map). Our team of staff and volunteers will assist you with the check-in and move-in process.
Saturday, August 26 at 9:00 am to 6:00 pm
Rozsa Center for the Performing Arts
1400 Townsend Drive, Houghton, MI 49931
Event Type

Audience

Subscribing Departments ?
Website

Subscribe