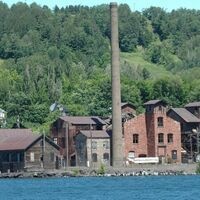 Quincy Smelter Historical Landmark Award Ceremony
ASM International is holding a Historical Landmark Award ceremony for the Quincy Smelting Works in Ripley at 10 a.m. Friday (May 19). Dean Wayne Pennington (COE) will represent Michigan Tech at the ceremony, where a cast bronze plaque will be unveiled and dedicated.
"The Quincy Smelting Works is uniquely capable of interpreting the final stage of copper production for one of the few native copper ore mining regions on earth," said Iver E. Anderson, a Michigan Tech alumnus and senior metallurgist for the Ames Laboratory in Ames, Iowa.
The ASM Historical Landmark designation was established in 1969 to permanently identify the sites and events that have played a prominent part in the discovery, development and growth of materials. Many Michigan Tech faculty and alumni were involved in the effort to get historical landmark designation for the smelter, including Stephen Kampe (MSE), Tim Scarlett (SS) and alumnus Scott See, executive director of the Keweenaw National Historical Park Advisory Commission, which owns the Quincy Smelter.
Friday, May 19, 2017 at 10:00 am
Quincy Smelting Works Ripley, Michigan
Event Type

Target Audience

Subscribing Departments ?
Host ?

ASM International

Subscribe