This is a past event.
Follow up the Short Story Writing Workshop with hands-on group critique led by literary buckaroo Charli Mills who publishes a weekly flash fiction collection of stories from around the world. Everyone will receive basic instruction on what makes critique productive. We will pair up, read and ask questions and offer constructive feedback. The point is to help one another improve their submission piece to Selected Shorts, a live radio performance scheduled at the Rozsa Center on December 7, 2019. Bring two hard copies of your story to revise. Only those with completed drafts can participate.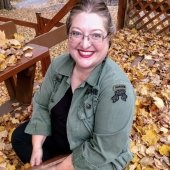 About Charli Mills
Charli Mills, a born buckaroo, once won a goat-tying championship. For 20 years, she rode the marketing circuit. Now she wrangles words and helps authors cultivate books and strategize brands. Married to a former US Army Ranger, Charli Mills is "true grit" although shorter than John Wayne. She writes about the veteran spouse experience and gives voice to the marginalized in western history. In 2014 she founded an imaginary place called Carrot Ranch where real people gather. Charli hosts weekly Flash Fiction Challenges, develops workshops, and leads writing retreats to make literary art more accessible 99 words at a time.