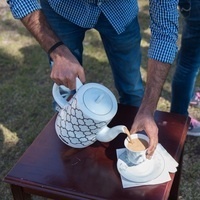 Tea Time
Take an afternoon break and enjoy tea, coffee, snacks, and conversation.
If you want to practice your conversational English and meet new people from a variety of countries, this is a great opportunity to do so! All are welcome.
Wednesday, December 13, 2017 at 2:30 pm to 4:30 pm
Douglass Houghton Hall (DHH), G044 - English Language Institute
1700 Townsend Drive, Houghton, MI 49931
Event Type

Target Audience

Subscribing Departments ?