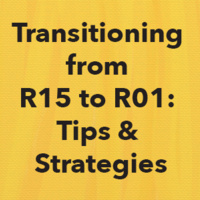 Transitioning from R15 to R01: Tips & Strategies
Dr. Bill Farquhar, chair and professor of Kinesiology and Applied Physiology at the University of Delaware, has successfully garnered several NIH awards. He began his career with NIH R15 funding before transitioning over the past decade to NIH R01 funding. Over the past 6 years, he has secured two consecutive R01 projects related to salt-sensitive hypertension.

Dr. Farquhar will discuss how he overcame early infrastructure challenges, the importance of collaborations both within and outside the institution, and other strategies to pursue NIH R01 funding at an AREA-eligible institution.
Friday, April 21, 2017 at 10:00 am to 11:00 am
Memorial Union Building (MUB), Ballroom B3
1503 Townsend Drive, Houghton, MI 49931
Event Type

Target Audience

Subscribing Departments ?