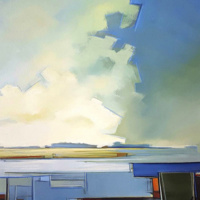 Water's Edge: Paintings by Danielle Clouse Gast
A Great Lakes Research Center Art Exhibit For World Water Day
Artwork is displayed throughout the first and second floors of the GLRC, March 15 - June 15, 2017, and is available for purchase once the exhibit closes.
The exhibition is curated by Lisa Gordillo (VPA) and is presented in collaboration with Michigan Tech's Department of Visual and Performing Arts.
For additional information, contact Mike Abbott or call 7-3165.
Thursday, June 15, 2017 at 8:00 am to 5:00 pm
Great Lakes Research Center (GLRC), 1st and 2nd Floors
1400 Townsend Drive, Houghton, MI 49931
Event Type

Target Audience

Subscribing Departments ?
Host ?

Visual and Performing Arts and Great Lakes Research Center

Subscribe