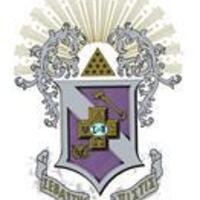 Sigma Pi
Sigma Pi (ΣΠ) is an international secret and social collegiate fraternity founded in 1897 at Vincennes University. Sigma Pi Fraternity International currently has 124 chapters and 5 colonies in the United States and Canada and is headquartered in Brentwood, Tennessee. Like most social fraternities, membership is by invitation and limited to men. Currently Sigma Pi has initiated more than 95,000 men and has 6,000 undergraduate members.
Sigma Pi strives to enhance the collegiate experience by building and supporting chapters and alumni organizations for the purpose of maintaining a fellowship of kindred minds united in Brotherhood. Furthermore, Sigma Pi Fraternity is the leading international men's collegiate fraternal organization which provides training, guidance and innovative opportunities for: leadership development, social and personal development, academic achievement, community service, and heightened moral awareness for its brothers throughout their lives.
Please Visit Our Sigma Pi Fraternity International Wikipedia Page @...
http://en.wikipedia.org/wiki/Sigma_Pi
Group Type

Awareness, Service
Recent Events